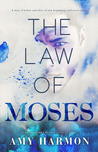 The Law of Moses
by
Amy Harmon
My rating:
5 of 5 stars
If I could give this book a thousand stars, I would. It was the most tender, heart-wrenching, heart-warming, emotion-inducing story I've ever read. The story line was just so powerful. Moses and Georgia's love story was unique and divine. There was so much chemistry, but this wasn't a romance in the sense you think of romance. It was a love-story - a much stronger kind of story than a romance. It tore my heart to pieces and mended it back together many times throughout the book.
My 5 greats? Moses' strength, Georgia's heart, Moses' cracks, Georgia's humor, Eli's will.....
I've never read a book that's touched me the way The Law of Moses touched me.
View all my reviews